A CLOSE CALL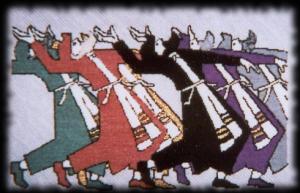 Dancing Rabbis in needlepoint, crafted by Anita Tobkes

During the time of the Spanish Inquisition, a crime so horrible (that we must omit the details) was committed in the city of Toledo. Looking for someone to accuse and punish, the Grand Inquisitor decided that only a Jew could have committed such an egregious atrocity. The authorities, thus far, could find no suspects.
The Grand Inquisitor decided to accuse the Grand Rabbi of the largest synagogue in the city, the Rabbi Haim Koen. The Rabbi was a most respected and admired man, and if he were to be convicted of this crime, all the Jews would surely suffer the wrath of the Inquisition.
The police told the Grand Inquisitor that there was not a shred of evidence that pointed to the Rabbi, and he surely would be found not guilty of having committed the crime. This did not stop the Grand Inquisitor. He told the police that he would leave it to God to convict the Rabbi.
The Grand Inquisitor said, "I am going to put 2 pieces of folded paper into this little box. One piece will say 'guilty' and the other will say 'not guilty,' it will show that all the Jews are guilty along with the Rabbi, and we will castrate him and then hang him instantly. If he picks the piece that says ˜not guilty," we have to let him go."
Do any of you think the inquisitor was an honest man? His intention was that he was going to write "GUILTY" on both pieces of paper. When the time came for the trial, the Grand Inquisitor told the Rabbi, "In this box are 2 pieces of paper, one says ˜guilty," the other says, ˜not guilty" The one you pick will decide your fate."
The brain of the Rabbi was a little bit ahead of the Grand Inquisitor. The Rabbi told him, "You are such a good man that you are going to leave it to God, so He will give me the opportunity to go free," and with that, the Rabbi put his hand in the box, took one of the papers and very quickly put it in his mouth, chewed it up and swallowed it.
"Why did you do that?" the stunned Grand Inquisitor shouted at the rabbi, "now we will never know which piece of paper you took." The Rabbi gave him a smile and said, 'Look inside the little box, Sir. If the paper inside the box says, 'GUILTY', then the piece I swallowed, surely was the one that said, ˜NOT GUILTY'


from Ladino Reveries translated and written by, Hank Halio for The Sephardic Home News journal.
---
About this entry
You're currently reading "A CLOSE CALL," an entry on Harvey Tobkes.
Published:

10.17.20 0:59
Category: