——–
—–
Article from The New Yorker written by Andy Borowitz
DALLAS (The Borowitz Report)—After years of being subjected to unfair ridicule, former President George W. Bush is now enjoying his newfound status as the smarter of the two Bush brothers to have achieved elected office.

Speaking to reporters at his home in Dallas, Bush said he was deriving "quiet satisfaction" from a new poll showing that ninety-one per cent of the American people now consider him the smarter Bush.

"I know that no one's saying I'm a genius," he said, modestly. "But I look pretty good when I'm graded on a curve."

Bush pointed with particular pride to the fact that seventy-four per cent of those polled said that, of the two Bush brothers, he had a "far superior command of the English language."

"When I was President, I got a lot of grief from people who didn't think my English was too good," he said. "I think now they're realizing it could have been worser."

The former President said that he hoped the American people's view of him, as the smarter Bush, would soon be shared by his parents, George and Barbara Bush.

"At Thanksgiving, Mom and Dad would never let me carve the turkey because they thought I'd screw it up somehow," he said. "Something tells me I'll be carving that turkey this year."

Posted at 10/07/15 5:32 |
Leave a comment
|
Send this to a friend
| Filed Under:
Humor
---
MINT CONDITION: Male, 1932, high mileage, good condition, some hair, many new parts including hip, knee, cornea, valves. Not in running condition, but walks well.
FOXY LADY: Sexy, fashion-conscious blue-haired beauty, 80's, slim, 5'4″ (used to be 5'6″), searching for sharp-looking, sharp-dressing companion. If you wear matching white shoes and a white belt…a plus.
LONG-TERM COMMITMENT: Recent widow who has just buried fourth husband, and am looking for someone to round out a six-unit plot. Health issues not a problem.
SERENITY NOW: I am into solitude, long walks, sunrises, the ocean, yoga and meditation. If you are the silent type, let's get together, take our hearing aids out and enjoy quiet times.
WINNING SMILE: Active grandmother with original teeth seeking a dedicated flosser to share rare steaks, corn on the cob and caramel candy.
MEMORIES: I can usually remember Monday through Thursday. If you can remember Friday, Saturday and Sunday, let's put our two heads together.

Posted at 10/07/15 1:50 |
Comments Off

on OLDIES USE PERSONAL ADS TO SEEK LOVE – NOT FACEBOOK
|
Send this to a friend
| Filed Under:
Humor
,
Spoof
---
As the president of the Extremely Loud Doorbell Company, I am frustrated and puzzled by the many charges that have been levelled against us.

————————-——————-

Some people blame us for the recent upsurge in cat frightenings. But, as I testified before Congress, cats are frightened by many things, not just doorbells. A person in the household may take up the bagpipes, for instance, or become fascinated by the Old West and call people to dinner with a chuckwagon triangle;

Perhaps the strangest charge is that, during wakes, our doorbells can cause the deceased to twitch or jerk. One plaintiff even claimed that a body suddenly opened its eyes!

Ironically, the courts did not believe the only true charge against our company: Repeated exposure to the Extremely Loud Doorbell in a business setting can cause a person to go temporarily bonkers, and transfer money from a company account to a personal account without intending to, or even realizing it.

While on my forced hiatus, I hope to work on a new idea of mine, the prison cell door that closes softly and quietly.



Source: Excerpt from the original article by Jack Handey for The New Yorker

Posted at 10/07/15 0:43 |
Leave a comment
|
Send this to a friend
| Filed Under:
Humor
,
Spoof
---

Posted at 10/07/15 0:12 |
Leave a comment
|
Send this to a friend
| Filed Under:
Cartoons
---

Posted at 10/06/15 10:34 |
Leave a comment
|
Send this to a friend
| Filed Under:
Cartoons
---
By Harvey Tobkes
———————-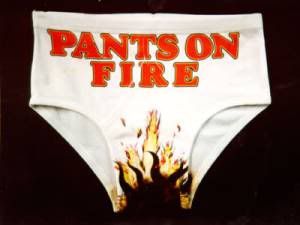 ——————
Many years ago, I was suffering from a cruel crotch itch, and not only was it unbearable, but it was embarrassing. I am reluctant to see doctors, so I tried every over the counter itch reliever, but nothing helped. Finally, after a sleepless night, I gave up on trying to be my own doctor, and early the next morning I called a well-recommended dermatologist , and got a same-day appointment.
The doctor had me drop my pants and did an examination. After careful consideration he said, "What you have is only a small problem." I was hoping he wasn't talking about the size of my penis. Nevertheless, he gave me a prescription for some kind of ointment, and that was that; temporarily.
I picked up the prescription at a local Wal-Mart pharmacy, and rushed home to apply it, hoping to get some quick relief. After 15 minutes, I experienced a burning sensation down below that was so fierce I had to jump into the bath to put out the flames.
As soon as I washed, powdered, and felt human again, I got on the phone and called the doctor.
"Nurse Ratched" from the movie, One Flew Over The Cuccoo's Nest, took my call and said in a low but intimidating voice, "The doctor is busy with patients right now, may I help you? "Ummm, well," I said, "my problem is a bit difficult to explain over the phone." She persisted, " I'm a registered nurse and fully qualified, so please just tell me what is your problem.
I said, "I think I'd rather have the doctor call me back when he's free." This may have angered her because she raised her voice to a scream and in a semi-hysterical state she let me have it with all the sarcasm she could muster, "Doctor is a very busy man and he cannot be making calls to patients, so you had better let me try to help you." I bit my tongue, but that didn't stop it from saying what it wanted to. I swear, it spoke as if it had a mind of its own, and didn't take orders from the brain.
I took a deep breath, like a tenor getting ready to deliver a climactic aria to an opera, and I said, "O.K. Nurse, I'll give it a try,…the doctor examined me about 2 hours ago and prescribed an ointment. I applied it, and now my balls are on fire and my dick feels like it's going to fall off."
She said, "One moment please, I'll get the doctor."

Posted at 10/06/15 9:30 |
Comments Off

on DERMATOLOGY 101
|
Send this to a friend
| Filed Under:
Anita & Harvey Stories
,
Humor
---

Posted at 10/06/15 4:33 |
Leave a comment
|
Send this to a friend
| Filed Under:
Inspirational
---

Posted at 10/06/15 3:38 |
Leave a comment
|
Send this to a friend
| Filed Under:
Cartoons
---
———————–
———————–
1. Cucumbers contain most of the vitamins you need every day, just one cucumber contains Vitamin B1, Vitamin B2, Vitamin B3, Vitamin B5, Vitamin B6, Folic Acid, Vitamin C, Calcium, Iron, Magnesium, Phosphorus, Potassium and Zinc.
2. Feeling tired in the afternoon? Put down the caffeinated soda and pick up a cucumber. Cucumbers are a good source of B Vitamins and Carbohydrates that can provide that quick pick-me-up that can last for hours.
3. Tired of your bathroom mirror fogging up after a shower? Try rubbing a cucumber slice along the mirror, it will eliminate the fog and provide a soothing, spa-like fragrance.
5. Finish a business lunch and realize you don't have gum or mints? Take a slice of cucumber and press it to the roof of your mouth with your tongue for 30 seconds to eliminate bad breath, the phytochemcials will kill the bacteria in your mouth responsible for causing bad breath.

Posted at 10/06/15 2:07 |
Leave a comment
|
Send this to a friend
| Filed Under:
Useful Info
---

Posted at 10/05/15 5:51 |
Leave a comment
|
Send this to a friend
| Filed Under:
Comedy
,
Video YouTube
---